The 13rd Annual meeting
May 11, 2015
The 13rd Annual meeting was held at Imperial Hotel on May 11, 2015.
Chairman Yoshihiko Miyauchi mentioned in the Chairman's statement of the year, there should be an increasing number of companies willing to make changes to enhance corporate governance so that they will be recognized in the global market. We are working to engage in activities during this year to support such companies.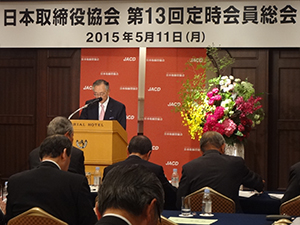 Chairman, Policy Research Council of LDP , a member of the House of Representatives Tomomi Inada's speech before the meeting, talking about achievements of Abenomics and challenges facing the Japanese economy.