Winter seminar is an exclusive and a member-only annual seminar held in a suburb of Tokyo. This event is of value to members with an interactive panel discussion and an opportunity to voice views, discuss hot topics and ask questions -presented in a half-day event. Networking golf follows next day.
In this year's seminar, Attendants discussed about what we can do to realize growth and corporate governance of the Japanese economy. Topics are follows; economic policies and corporate strategies, capital market and growth and the governance of the Japanese company.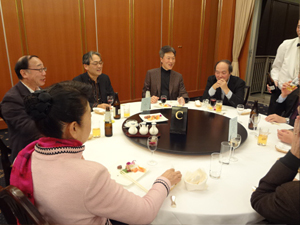 Program 1: 'Activation of the capital market of Japan'
Chairman: Takeo Takasu, Senior Advisor, NAMCO BANDAI Holdings Inc.
Speakers: Yoshinari Hara, Honorary Advisor, Daiwa Securities Group Inc. and Takeyuki Ishida, Executive Director, ISS.
Program 2: 'Economic policy and corporate strategy'
Speakers: Hiroko Ota, Professer, National Graduate Institute For Policy Studies.and Kazuhiko Toyama, CEO, Industrial Growth Platform, Inc.
Program 3: 'Growth and governance of the Japanese company'
Speakers: Yoshihiko Miyauchi, Chairman, JACD, Nobuyuki Idei, Vice Chairman, JACD. Founder and CEO of Quantum Leaps Corporation.
Moderator: Shigeyuki Ii, Editorial Writer, The Sankei Shinbun.