2011 JACD Conference
September 6, 2011
JACD cosponsored a symposium with The Sankei Shinbun in September 2011, discussed the best practice in the governance of politics and companies.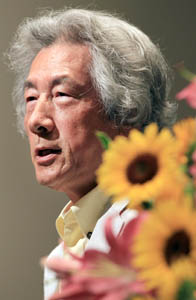 Opening Remarks : Yoshihiko Miyauchi , Chairman , JACD
Keynote Speech : Junichiro Koizumi, the 87, 88, 89th Prime Minister.
Panel Discussion Speakers :
Hiroko Ota, Professer, National Graduate Institute For Policy Studies.
Yasuchika Hasegawa, Chairman, Keizai Doyukai.
Kazuhiko Toyama, Vice Chairman, JACD. CEO, Industrial Growth Platform, Inc.
Moderator : Shigeyuki Ii, Editorial Writer, The Sankei Shinbun.